Great Plans for "After Korea"
I had a nice photo of Phyllis, which was my most treasured possession while in Korea. Phyllis and I had dated for quite some time, and when I left to join the Military, we both promised each other our "everlasting" love. While in Korea, I would write to her about every week, and I would get a letter from her about every week. We had planned, or at least talked about, us getting married when I got out of the Army. All of our letters back and forth had this premise in them.
Back From Korea
Finally, after seeming like an eternity, I was going home. I had served my time in Korea, and I could not wait to see my family, my friends, all the familiar places, and was especially anxious to see Phyllis again. I had a photo of her that I had carried while in Korea, but that was poor substitute for the real thing. In my mind, Phyllis and I would be overjoyed to see each other, and make plans for our future together. While coming thru Japan on the way home, I bought her a silk jacket with dragons and other designs on it. I could not wait to get home!
Traveling by Troop Ship
After processing in Japan for our return home, we were loaded onto a WW1 troop ship named "The Marine Phoenix", which was, as you can guess quite old. We had several thousand returning troops on that ship, plus many, many crew members. No one knew anyone else - we were returning home as individuals, not units. Our first day out of Japan, some First Sargent grabbed me and several dozen other troops and told us we would be working in the galleys all the way on the trip to the States as K.P.'s. (K.P.'s is slang for "Kitchen Police" which means washing dishes, peeling vegetables, etc.) Me, being only a Corporal in rank, but not liking the K.P. duty, decided to do something to get out of this demeaning job. After all, I was a combat veteran, and didn't think I deserved that treatment.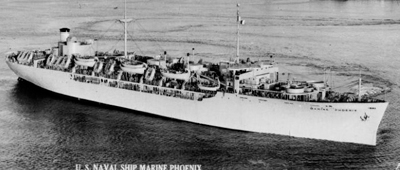 The "Marine Phoenix" was retired in 1958
So, after work that day, I proceeded a few decks down to the Ship's Store and bought some bronze Sargent stripes which I affixed to my jacket and to my cap. I promoted myself right then and there. I resigned from K.P. duty, without telling anyone, and never returned to the galley except to eat! No one was ever the wiser.
A week or 10 days after leaving Japan, a typhoon hit us. At the same time, the main bearings in the propeller drive shaft burned out. The ship was without power, and could not be steered. The typhoon lasted three days, and at times I thought that ship was going to capsize - it would roll to about a 45 degree angle, quiver for awhile, and slowly right itself. It did this about every 30 minutes for two days and nights. No one could relax - many of us thought we had met our end! All persons were forbidden to go on open deck, the hatches were closed. Two thirds of the troops (and crew) were sea sick, and the smell was horrible in our cramped quarters below deck. Once in awhile we would get hit with a bigger wave, and rivets would pop out of our interior bulkheads. Those rivets would fly like shrapnel, but no one got hit that I know of. They finally got the bearings replaced, and the typhoon moved on. The Captain came on the intercom and told us we were 200 miles closer to Japan than we were when the typhoon hit. The wind had blown us backwards! All-in-all, it took us 28 days from Japan to Seattle.
As we approached Seattle I demoted myself and took off the Sargent stripes. We boarded a troop train in Seattle and was taken to Camp Crowder, Missouri. On the train, someone stole my wallet with all the money I had earned while in Korea. About $900. A few days after getting back to my parents place, we got a letter from a Police Chief in Memphis. He said he had a wallet with my name in it, and if I could describe some of the papers in it, he would send it to me. Of course, it had no cash left. I did send him some descriptions, and he did send the wallet. I borrowed enough cash from my parents to buy a 1949 Ford, and to have some spending money.
Arriving Home
While I was in Korea my parents and sister Vickie had moved from Monegaw Springs to Appleton City, about 25 miles away. I first came to my parents home, and had a great reunion with them and Vickie. I arrived home the first part of February, 1953, and my parents had left the Christmas tree up and all decorated in anticipation of me coming home. I remember the local newspaper came for my photograph standing next to that tree, and the headline was "Christmas In February". My next move was to buy a good car to drive while having reunions with my friends in Monegaw, especially Phyllis. I bought a 1949 Ford, again from the Zink Motor Company in Appleton City, for about $800, and I was on top of the world. It had a real heater, starter, brakes, and good headlights! I headed out for Monegaw in high spirits, dressed in my Class "A" uniform, with all my stripes and medals and ribbons so as to make a fine figure of a "returning soldier". Having been gone close to two years, I was in a dream world. Just wait until Phyllis saw me in that great car, I thought. I would make a great impression, and we would have a joyous reunion. She would be overjoyed to see me after such a long absence, as I let my imagination run wild.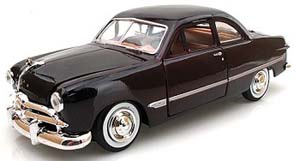 My prized '49 Ford
I headed straight to the Aunt's house where Phyllis was living, and she was gone. I asked and asked around, but nobody seemed to know where she was. Finally one of Phyllis's girl friends told me that Phyllis could not see me. I asked why? She told me she couldn't say. I asked where she was, and the girl friend would not tell me. I asked, "had she found another boyfriend", and again, no answer. I was broken hearted. I assumed she had found someone else, but also I was very grateful she had not told me while I was still in Korea.
So, if this was a "Dear John" parting at least Phyllis had let me make it back to the States first. For that I was forever grateful. Those "Dear John" letters were hard to take when you were far from home, and feeling totally helpless. My very good buddy, Robert R. Clark, had received such a letter from his wife during our tour in Korea. I was truly afraid he would kill himself over that. He was careless about being seen by the enemy - I think for awhile he just did not care whether he lived or died. It took him a long time to get back into shape, and I seriously doubt he was ever the same again.
(A note out-of-sequence) About 12 or 14 years later, Phyllis and I accidentally came face to face in the town park in El Dorado Springs during one of their annual festivals. At the time I was living in Tulsa, OK, and previously I had heard that Phyllis was living in Kansas City, MO. I had my wife and two kids with me, she had the girl friend (the one who would not tell me anything years before), and two kids with her. We were so surprised to see each other that we just froze and could not say a word! She looked at me with the saddest eyes I had ever seen, and I'm sure I did the same thing to her. I think we were both very close to tears. We did not touch, we stood there only a minute or so before my wife and her girl friend dragged us away. Not a word was spoken, the eyes said it all. I never did see her again.*
*This paragraph is also a few years out of the context, but feel it is necessary for the completion of the story. About twenty years after this chance meeting in El Dorado Springs, I woke up to my alarm radio turned on to a Kansas City station. In a half stupor, I heard the news announcer say that there was a bad wreck on a street in Kansas City, and a lady by the name of Phyllis Hodges had been killed, and gave her age. I did not know Phyllis's last name. But, somehow I knew it was her, and it would have been her correct age. Later that day a mutual friend came to see me, and said "Tip, your Phyllis was killed last night". I said, yes, I know that. How I knew, I can't comprehend, but I did know. I guess I'll never know why she didn't (couldn't) (wouldn't) see me after my return from Korea.
Regardless of this setback, I was elated to be back where I belonged, even if just for a little while, and even under these conditions. Whatever reason Phyllis had for not wanting a reunion, I accepted it and moved on the best I could. Sad? Yes. Feeling rejected? Yes. Heartbroken? A little. Bewildered? Yes. Off women "for life"? Nope. Life ruined? Nope, just a lingering hurt. Hating her for this rejection? Of course not. We were both young, and possibly her decisions were for the best, who knew what lay down the road? I decided to "move on".
I wandered around for a day or two then it began to dawn on me that life was good, I still had a few weeks of "Leave" left before I had to report back to the Military. And, I remembered a sweet young lady that I had never dated who was still in the area. She was the neighbor of Frankie Wayne Keeton, my 'coon hunting pal, who I never paid much attention to during my earlier time during grade school. She lived a few miles out in the country, we had gone to high school together, and she had been in one grade behind me in school. Her name was Mary Ellen Moore, and I decided to investigate. I drove up in her yard, and was greeted by her parents. (We had no phones, so the way to contact someone was to just show up). I asked to see Mary Ellen, and was not thrown off the property. They called her out of the house, and we had a good visit. It turned out that she had no boyfriend, so, with her parents permission, we made a date for a couple of nights later.
We went to a movie in Osceola, drank some Cokes, ate hamburgers, and drove back to her house. I suspect we spent too much time in her driveway before she went into the house. I suspect we were being watched from the dark house. I suspect I became a suspect in her parents opinion. I suspect they remembered I was one of those "Monegaw kids". I suspect they saw their innocent daughter in the company of this "Returning Army Veteran, who, no doubt had all these wild women experiences". Whatever the reason, it seemed that the parents were having second thoughts, and we were not permitted any more dates "at this time".
Oh well, now what? My girl cousins, Eva and Wanda Carpenter were still around. They were living with my grandmother in Appleton City. It so happened that cousin Wanda had a best friend when they were living on the family farm, her name was Peggy Baumgartner. The Bert Baumgartner family had three daughters that I remembered somewhat, one of which was Peggy. Well, cousin Wanda found out that I was at "loose ends" and had no girlfriend - she suggested I contact these previous neighbors to see what the status of the three daughters was. Although the Baumgartners had sold their farm which was close to the old family farm, and had moved to another farm near Osceola, I did locate them with Wanda's help. It turned out that Wanda's friend, Peggy, did not currently have a boyfriend.
Now, Bert (the dad) had a reputation of being very protective of these three daughters. In fact, I was a little bit afraid of him. With great trepidation, I worked my way up to ask Peggy out for a date. She accepted. We hit it off just fine. We had several dates, and once again, life was good. We dated as often as we could during my three weeks that I had left before reporting back to the Military.
On our last date before I had to leave, Peggy and I were returning from a date. Her house was set back off the main road, and had a gate across the drive. Of course, we had to stop to open that gate. While stopped, and before opening the gate, we became quite involved in hugging, saying good-bye, that sort of thing. (All quite innocent, I assure you). We were so involved that we did not see or hear Bert (her dad) drive up and park behind us. We had the drive blocked. I guess he got tired of waiting for us to "say good-bye" and he finally started blowing his car horn.
We both bolted upright, looked out the back window, saw Bert, and both of us almost died. We knew we had had it. I expected to see a shotgun before the night was over. Peggy jumped out, opened the gate, got back in my car, and we drove right to her house, looking all innocent. Bert drove up beside us, got out, went into the house. He never said a word to me, I know that, and according to Peggy, she also escaped retribution. Whew! If I had been any kind of a man, I would have accompanied her into the house, so take whatever Bert had planned. I chickened out, and left Peggy alone to "take the music" like a cur dog.
Now, my time was up, it was time to go back to Military life. I went on to my next Army assignment. I was 20 years old, and realized my boyhood was over.
I reported to my next place of duty, Pittsburgh, PA, and resumed my Military life. J.D. Weant was still in the Army someplace. Phyllis had "divorced" me. Mary Ellen's parents had put me off limits. Peggy's dad was probably laying for me. Chop Carter had been drafted and he was gone. Cousin Jack Carpenter had been drafted, and he was gone. Cousins Wanda and Eva Carpenter had moved to Appleton City to live with my grandmother. My parents had moved out of Monegaw. The high school in Roscoe had been closed, the kids now being bussed to the Osceola High School. Most of my previous pack had left for one reason or another. That is when I realized that there is no such thing as "Going Back Home". Nothing is ever the same!